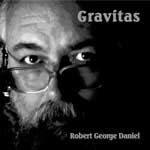 Gravitas
by Robert George Daniel
Physical CD is available from CD Baby. Totally secure transaction takes place on their site. All major payment methods accepted.
Click this link to purchase through CDBaby:
www.cdbaby.com/cd/rgdaniel
(The CD Baby page includes previews of all tracks, and links for individual song downloads, whole album download, and physical CD purchase.)
Now available on iTunes!

Canada

USA

UK
Also available on Amazon Digital Music.