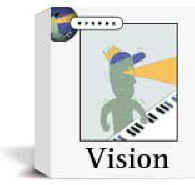 I've just been reading the woefully scant stub of an article on Wikipedia about Opcode Vision. Vision, and later StudioVision Pro, was the software platform I used to record, sequence, edit, and generally manage the musical performances in Gravitas.
Gibson, the guitar people, bought Opcode in 1998, and killed it in 1999. I've no idea why, but a lot of people were upset, including me. There's still a fair bit of Opcode nostalgia out there, and maybe even some lingering resentment towards Gibson. Mostly from me. Bastards. (Not being a guitarist, it's been easier for me to hold that particular grudge…)
Things really got interesting for me from a sound design perspective when I made the move to StudioVision, "the first-ever commercially available product integrating MIDI sequencing and digital audio editing and recording on a personal computer." I used to be bleeding edge, apparently.
This is what enabled me to integrate small audio clips of either sound effects or musical performances (usually quite short, for computer performance reasons) into the traditional MIDI environment.
Combining MIDI data and audio is exactly analogous to combining, in the DTP world, text and pictures. It really changes the landscape…
The article also reminded me that Vision was the platform of choice for "electronic music pioneers such as Herbie Hancock, Wendy Carlos, Thomas Dolby, and others."
So I was in good company! You know, in my mind.